Description
Edit
Zina is fierce, but her tiger is fiercer. No one, not even a deck character, is safe from his attack.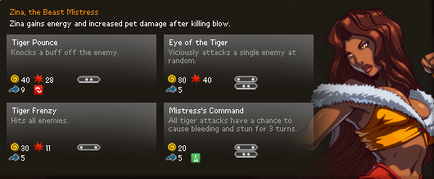 Equippable Items
Edit
Villager Items
Edit
General Items
Edit
Strategy
Edit
Strengths
Edit
Poison, Bleed and Stun can proc on enemies on the bench, making Zina one of the best bench hitting DOT (damage over time) dealers in the game, with Tiger Frenzy.
Can kill opponents quickly with Eye of the Tiger if they all have below 40 HP and has low physical resistance.
Can hit all enemies at far.
Gains 30 energy when she kills an opponent.
Weaknesses
Edit
All attacks are physical unless Zina kills an opponent, making all of her attacks become dark magic.
Low resistances.
Requires set-up time.
Tiger Frenzy becomes less useful as more characters are killed.
Not that good in 1 vs 1 matchups.
Changes scheduled with next versions
Edit
Full Art
Edit