Description
Edit
Ubuntu has powerful friends in spiritual places, but physical attacks can bring him down to earth.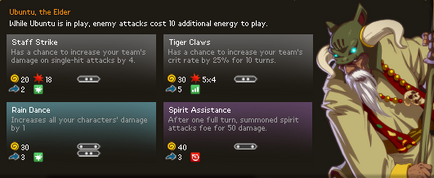 Equippable Items
Edit
Villager Items
Edit
General Items
Edit
Strategy
Edit
General Use
Edit
Ubuntu is a very versatile character. He can suicidally use Staff Strike and Tiger Claws in order to buff his teammates, and alternately use Rain Dance for multiple-hitting attacks. He can threaten at far with Spirit Assistance. His innate lets him drop the enemy's energy much faster than it should drop. Whatever style of play you pick, he can be one of the most devastating characters to play against.
Strengths
Edit
Great for draining out enemy energy.
Great for boosting allies' damage and crit rates
Can deal out lots of damage using Spirit Assistance.
Very useful innate.
One of few Cornelius Constantine counters.
Weaknesses
Edit
No physical defense
Close range attacks are weak.
Slowest move set in the game.
Ubuntu tends to fail somewhat against close range low-cost attacks such as Ambrosia Thorn's Spiked Boots, or Yoshiro's Open Palm.
Known bugs
Edit
Changes scheduled with next versions
Edit
Full Art
Edit