Description
Edit
Sailing the seas with a handful of knives, some poisonous brew and a thieving parrot, Darla is living out every young girl's dream.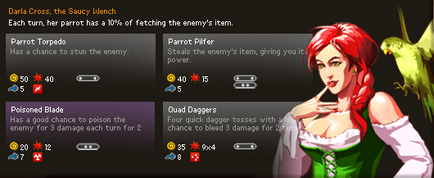 Equippable Items
Edit
Pirates' Items
Edit
General Items
Edit
Strategy
Edit
General use
Edit
Takes items and use them for your own purposes.
Although unlikely and impractical, it's possible for Darla to steal Gem of Souls and thus technically obtain any innate.
Strengths
Edit
Stealing items can produce a lot of interesting outcomes. Popular items to steal: Jade Figurine, Necronomic Tomes, Blood Vial, Valkyrie's Charm, Scroll of Inner Focus, etc. Stealing Jade Figurine decreases the opponent's health by 15 and increases yours by 15.
Good against characters with low physical defense.
Long-range combat
Weaknesses
Edit
Quite fragile due to mediocre health and poor resistances.
Bad against characters with decent physical resistance.
Very limited close range attack options.
High energy costs at far, her preferable range.
It is easy to overuse Parrot Pilfer.
Close-range combat
Known bugs
Edit
If Darla is equipped with Healing Salve and manages to steal a Death Mask, she will not die from the Impending Doom debuff. Her sprite will disappear and any abilities that proc on death will proc but the game will continue to consider her alive with 2 HP.
Full Art
Edit