Description
Edit
Agathe turned to combat after her overpowering stench prevented children from being lured into her Limburg cheese house.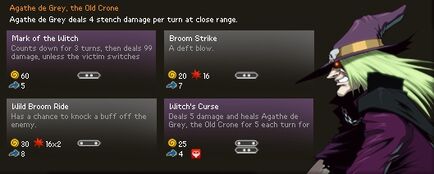 Equippable Items
Edit
Witches Items
Edit
General Items
Edit
Strengths
Edit
Innate does damage at close range
Self-healing
Instant-kill curse. Mark of the Witch is especially useful when your opponent only has one card left and you can stall at close or far (depending on the character).
Weaknesses
Edit
No light resistance
Witch's Curse is easy to counter
Direct combat
Known bugs
Edit
None.
Changes scheduled with next versions
Edit
None.
Ad blocker interference detected!
Wikia is a free-to-use site that makes money from advertising. We have a modified experience for viewers using ad blockers

Wikia is not accessible if you've made further modifications. Remove the custom ad blocker rule(s) and the page will load as expected.